Gluten Free Thanksgiving!
If you're like me, you look forward to Thanksgiving for most of the year. I love seeing family and settling in for the winter, but mostly I love all the amazing food! When I was young, big family meals weren't nearly as complicated as they are now because everybody was able to eat most everything that was served. But today things are very different, and it can be quite challenging to make delicious food that meets everybody's dietary restrictions while still feeling traditional and … well, tasting yummy!
Here are a couple recipes that have been crowd pleasers in my family. These have gluten free, dairy free and egg free (vegan) options. The bread and pie recipes are adapted from Jennifer Katzinger's Gluten Free & Vegan Baking Cookbook:
Gluten Free (with vegan options) Stuffing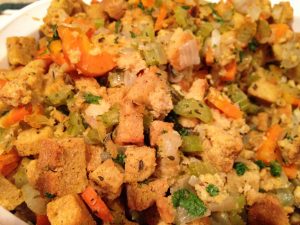 •  4 cups gluten-free bread cubes*
• 1⁄4 cup minced shallots
•  2 small onions, diced
•  2 carrots, diced
•  2 celery ribs, diced
•  1⁄4 cup palm oil or butter
•  11⁄2 teaspoons dried sage
•  11⁄2 teaspoons dried thyme
•  1 teaspoon sea salt, or to taste
•  1 teaspoon ground black pepper, or to taste
•  11⁄4 cup broth
•  2 tablespoons parsley, chopped
Toast bread cubes carefully in a preheated 300°F oven for 20 minutes or until dried, stirring occasionally to promote even browning.
Sauté shallots, onions, celery and carrots in palm oil until they are soft and onions begin to caramelize. Add sage, thyme, salt and pepper and cook over medium heat for 2 minutes. Add 1⁄4 cup of the broth and continue cooking over medium heat until liquid is reduced by half.
In a large bowl, mix sautéed vegetables with bread cubes, remaining broth and parsley. Transfer to a baking dish and bake uncovered for 20 minutes at 325°F.
*Gluten Free Bread (makes one loaf)
•  13⁄4 cups brown rice flour, 1⁄2 cup each of teff, sorghum, quinoa and amaranth flours; or 3 3⁄4 cups of your favorite gluten free flour blend
•  1⁄4 cup flax meal
•  11⁄2 teaspoons sea salt
•  1⁄4 teaspoon xanthan gum
•  1⁄4 teaspoon guar gum
•  1⁄4 cup extra virgin olive oil
•  1⁄4 cup maple syrup
•  1 cup lukewarm water (94 degrees)
•  1⁄2 tablespoon active dry yeast
• 1⁄3  cup pureed sweet potato or pumpkin
Preheat the oven to 300°F. Lightly oil a bread loaf baking pan. Dust your work surface liberally with brown rice flour.
Combine the flours, flax meal, salt, xanthan gum and guar gum in a medium sized bowl. In a larger bowl, combine the olive oil, maple syrup, water and yeast. As soon as the yeast is activated (you will see bubbles forming on the surface and the mixture will look cloudy; about 3-5 minutes), slowly stir in the flour mixture and sweet potato, alternating in small amounts until just incorporated. Be careful not to overmix.
Once everything is combined, remove the dough from the bowl and gently knead it three or four times on the floured work surface. Place the dough into the prepared baking pan and shape it into the pan. Lightly slash the loaf along the length of the side to allow excess air to escape and prevent cracking.
Bake until a knife inserted deep into the center comes out clean; about two hours. Wait until it is fully cooled to slice and chop into cubes.
Basic Gluten Free Gravy
•  1⁄4 cup brown rice flour
• 1⁄4 cup oil or turkey drippings (fat only)
•  2 cloves garlic, minced
•  1⁄4 teaspoon black pepper
•  1⁄4 teaspoon sea salt
•  2-3 cups broth
Place the flour, oil, garlic, salt and pepper in saute pan over medium heat. Whisk frequently until the flour browns. Slowly add broth while whisking, 1⁄4 cup at a time until you reached your desired consistency. Serve piping hot.
Gluten Free, Vegan Pumpkin Pie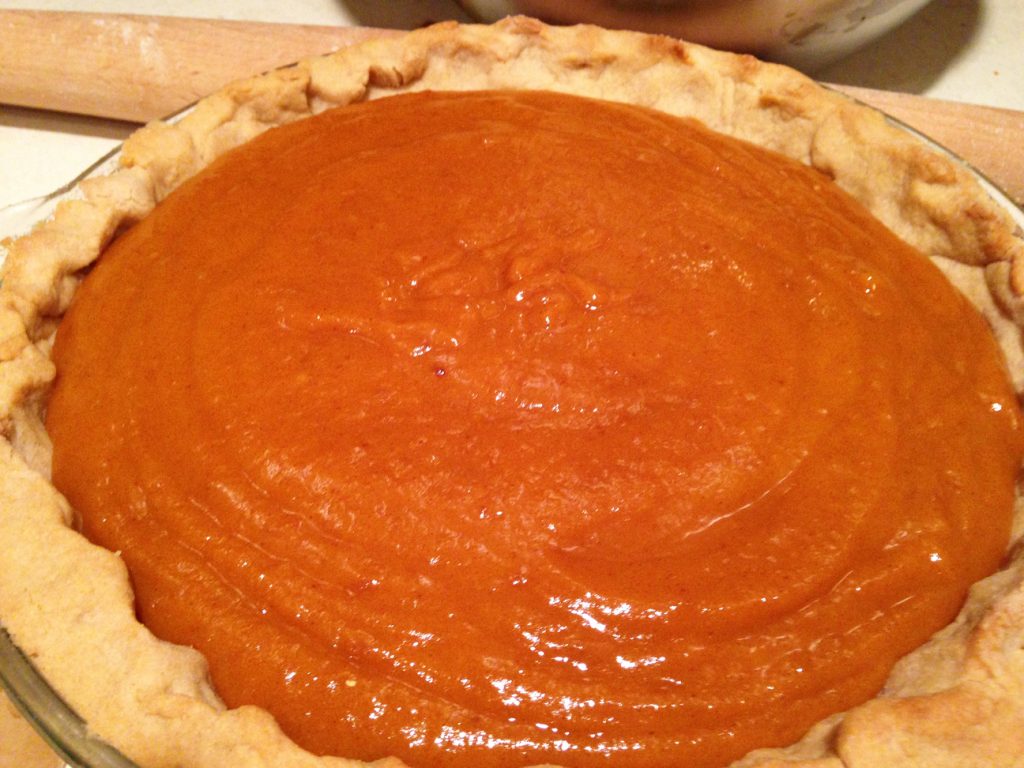 Basic Pie Crust
•  11⁄2 cups brown rice flour
• 1⁄4 teaspoon sea salt
•  1⁄2 cup plus 3 tablespoons palm oil
•  3 tablespoons maple syrup
•  1-2 tablespoons cold water
Combine the rice flour and salt in a large bowl. In the bowl of a standing mixer fitted with the paddle attachment mix the palm oil until softened, about 1 minute. With the mixer on low speed, add the flour mixture slowly until incorporated. Add the maple syrup and water and mix until a soft dough has formed, about 5 minutes. If the dough is dry, add additional water 1 tablespoon at a time until the dough is smooth.
Refrigerate the dough for 20 minutes. Dust a cutting board or other portable work surface and your hands liberally with rice flour. Place the dough on your work surface and sprinkle the op with more rice flour. Roll the dough into an 11-inch disk.
Place your pie plate on top of the rolled-out dough. With one hand under the work surface and the other on the pie plate, flip them so that the board is on top. Set the pie place on the counter, remove the board and gently press the pie dough into the pie plate. Any tears that occur can be fixed by gently pressing and pinching the dough back together.
Decoratively flute the perimeter of the pie crust by pressing a fork along the edge or using your thumb and forefinger to pinch the edge.
Pumpking Pie Filling
•  One 15-ounce can pumpkin puree, or approximately 13⁄4 cups cooked pumpkin
•  1⁄2 cup apricot puree**
•  1⁄2 teaspoon sea salt
•  3⁄4 tablespoon arrowroot powder
•  1 teaspoon ground cinnamon
•  1⁄8 teaspoon ground nutmeg
•  1⁄8 teaspoon ground ginger
•  1⁄2 teaspoon vanilla extract
•  6 tablespoons maple syrup
•  3⁄4 cup milk or non-dairy milk substitute
Preheat the oven to 350°F.
Combine all ingredients in a bowl until smooth.
Prepare a 9-inch pie plate with the crust (as above). Par-bake the pie crust for 15 minutes.
Pour the pumpkin filling into the par-baked crust. Bake 30 minutes covered in foil and then remove foil and continue baking until the filling is puffed around the edges and the center has set, about 10 more minutes. Cool before serving.
**Apricot Puree
•   1 1⁄2 cups dried apricots
•  2 cups boiling water
•  1 tablespoon freshly squeezed lemon juice
•  2 teaspoons vanilla extract
•  1 1⁄2 tablespoons cane sugar
Place dried apricots in a large bowl and pour boiling water over them. Soak the apricots for 2 hours, then drain, reserving 1⁄4 cup of the soaking liquid. Transfer the apricots and reserved soaking liquid to a food processor, blender or hand mixer cup. Puree until smooth. Blend in lemon juice, vanilla and sugar. Store in the refrigerator until you are ready to use it.
Happy holidays!
Comments
Post a Comment